How To Choose The Perfect Stain Color for Your Hardwood Floors
Hardwood floors add value to your home because they are stunning, strong, and durable. Selecting the perfect stain color for your wood floors can maximize that added value if it complements the other details and decor in your home. When you are ready to look through the endless options of colors, you'll want to consider a few things, like the species of wood you've chosen, the amount of light and traffic in the room, and the color and style of furniture you have. It is very important to be completely sure about your stain color choice, because once the stain has been applied, the only way to change it is to re-sand and re-stain the floor. Here are some tips to help you find the perfect stain color for your wood floors.
1. Consider your species First and most important thing, the species of wood you have will make a difference in your stain choices. Oak is by far the easiest wood to stain and gives you the most color options. Therefore, if you have oak floors, give yourself a high five! Floors made of birch, maple and coniferous woods like pine or fir are very difficult to stain evenly and often look best when left natural. Maple and birch wood have tight grains and tiny pores, making it harder to absorb stain pigment. But, with a modified technique for sanding and conditioning, they can still be stained and make a beautiful, highly-durable floor.
2. Lighting and traffic Lighter, more natural stain colors will generally show the wood's twists and knots. However, it can really give a sensation of space in a small room that doesn't get a lot of light. While the wood's natural imperfections will show with a light stain color, the scratches, dust and pet hair that inevitably come along with living on the floors will blend right in. Darker stains are great for concealing the wood's natural imperfections, but will show more scratches, dust and pet hair‒ especially if the room is well lit. Thus, think about how the color will affect the feel of the room and how often you'll be willing to clean it.
3. Adore your décor even more Wood floor stains are available in a rainbow of colors to choose from. We are convinced that you will find the perfect color to fit any décor style. You can create exclusive, one-of-a-kind looks with custom-mixed stains as well. Even if you floor has a few years, you can achieve a whole new look with a new stain and finish. The possibilities are endless.
Lighter stains can brighten casual spaces and go great with a country-themed interior. When selecting your stain color, also consider the degree of translucence it offers. If you want a lightly stained floor but don't want to see every whorl and knot in the wood, choose a light stain that is more opaque.
Medium stains such as our Sedona Red, Gunstock and Chestnut are all classic choices for homes with a more traditional décor. These colors create a richness and warmth in the room while easily complementing many other kinds of wood that you might have in your home.
Dark stains have certainly become a favorite lately. They complement modern interiors and make other colors in the room really pop. Using darker stains like Ebony, Jacobean and Mahogany can create a rich, stylish look and draw attention to your favorite pieces of furniture.
Once you have narrowed it down to a few shades, we will use a plank of your wood flooring to create a few samples with varying finishes. This way you will really get a good idea of how each color will look in your home, and you'll have peace of mind when you pick your favorite.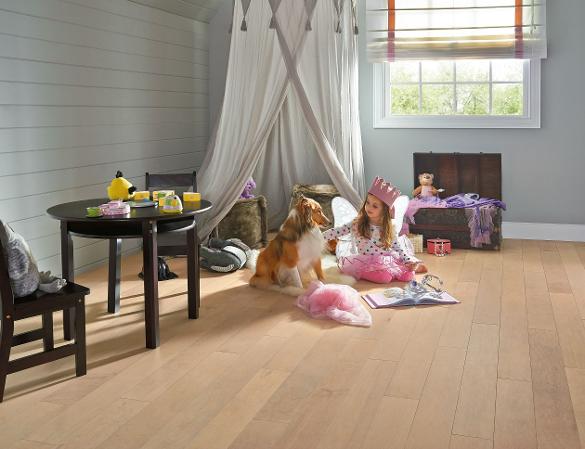 Minwax® Wood Finish™ is a penetrating oil-based wood stain, which provides beautiful rich color that enhances the natural wood grain. It applies easily and penetrates deep into the pores of the wood.
Available in 26 wood tone colors.
Can be used to add beauty to any bare or stripped wood surface.
It is ideal for staining unfinished wood furniture, cabinets, wood door, trim, molding and hardwood floors.
Oil-Based Polyurethane
Oil-based polys are the mainstay of floor finishing and widely used by professional finishers.
Although they are tough, long-lasting, and less-expensive than water-based polys have a higher VOC content and stronger odor during application. A coat takes 8 to 10 hours to dry, so you'll want to vacate your house until the floor is completely dry-and bring your pets with you. two to three coats are recommended.
Professional floors refinishers report some problems when using an oil-based poly over water-based poly. Best advice: Don't do it.
Minwax Wood Stain Colors
The colors shown are for reference purposes only. They have been reproduced using digital production techniques. We always test the stain on a plank of wood to verify desired color.
W
hile wood in its natural state can provide breathtaking beauty, it doesn't always match the other colors or wood tones in your home. Adding stain to bare or stripped wood can both change the color and highlight the grain pattern of any interior wood.
Since wood is a product of nature, it can vary from tree to tree, even in the same wood species. Avoid surprises: first test any stain you are considering on an inconspicuous spot to ensure that the color of the stain—in conjunction with the natural color of the wood - produces the color you desire.
Martinez Wood Floors work with Minwax oil based stains.
Minwax Oil-Based Stains
Give you a longer working time, enabling you to stain floors, cabinets, paneling and doors without the worry of dried lap marks.
Do not raise the grain, eliminating the need for additional sanding.
Our Stain Selection Process
During our decades of experience, we have helped thousands of our clients choose the best stain color for their hardwood floors. We firmly believe that the only way to determine the best stain color for your home is to test it on your floors. While color swatches and color charts may give you a general idea of the color, nothing can compare to seeing the actual color on your floors.
Here's How We Do it!
1. Preparing floor. We will sand a small section of your floor and prepare it exactly the same way we will when we complete the entire process.
2. Add stain. After a thorough consultation, we will add the best stain color choice to a few of the prepared boards.
3. Continue the process until the perfect stain is found. If you are not pleased with the first color, we modify the next selection (darker, redder, lighter, etc). We will continue to do this until you are satisfied with your choice. Typically this only takes two or three trials until we find the perfect stain for you.
We have helped thousands of customers in South Florida to choose the perfect stain for their hardwood floors and we can help you! We would love to discuss your hardwood flooring installation or sanding project. Talk to the Hardwood Stain experts, give us a call today at 305-342-9727!
Bona's new DriFast Stain
Collections offer the latest choices for hardwood floor inspiration in your home. Four beautiful collections with 26 colors capture the invigorating spirit of great design. Find just the right shade or custom mix to provide a unique look to your wood floors.
An oil-modified stain that dries and is recoatable in two hours. Advanced technology, quick-drying formula provides speed and high performance for hardwood flooring professionals.
The Metropolitan Collection is comprised of saturated reds, smoky browns, grays and rich, chocolaty black. Each color captures an urban vibe that's just right for today's sophisticate. Compatible with all Bona waterborne systems and all other Bona finish systems. All stain colors are available in quart and gallon sizes.
Connect with us in social medi@

Martinez Wood Floors Inc. (MWoodFloors)
© 2017 | All Rights Reserved