Our Services
Hardwood Floors Installation
Installing hardwood floors is a wonderful way to improve your living space. If you want to remodel and go for a high-fashion look, hire a professional hardwood flooring contractor for all your hardwood flooring needs. It is worth hiring a professional hardwood flooring contractor as you will reap the benefits of a having a professional job done. You don't want to have problems with your hardwood flooring a few months later. It's hard to imagine a house being cozy without the warmth of wood floors!!!!
Hardwood floors are made of maple wood, birch wood, oak wood, ash wood or beech wood. Each kind of wood will give your wood floors a different look and feel. Hardwood floors can come in a variety of colors and are becoming more affordable and easier to maintain. Hardwood floors are now being developed with sophisticated techniques so that they are harder and more durable.
If you want a custom stained hardwood floor, or a hardwood floor to match existing trim than a job-site finish is your answer. Job-site finish means you start with a bare (unfinished) hardwood floor and then the hardwood floor is sanded, stained, and finished in the home. The other advantage of a job-site finish is if you are concerned with uneven heights between planks, the sanding process will smooth out the hardwood floor. Be warned, this can be quite a mess and the process does take several days.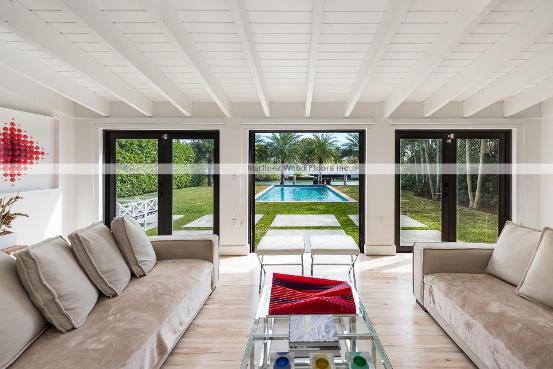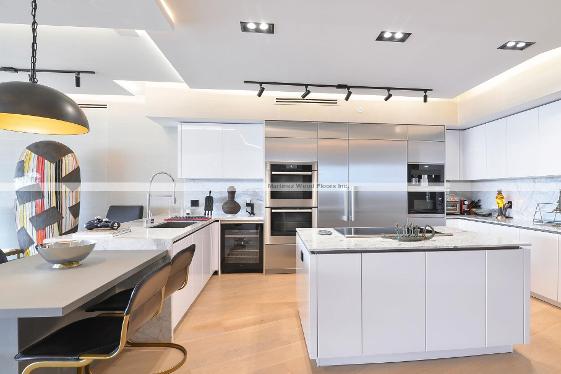 Hardwood Floor Refinishing
The process of hardwood floor sanding and refinishing may present a certain level of uncertainty for anyone who has not had first hand experience with it. There are many steps involved in sanding and preparing newly installed or pre-existing hardwood floors. Moreover, the refinishing process itself will present several possible options to achieve the results desired for your home's specific interior design concept. The following is a walk through of the variable steps necessary to complete a hardwood floor service project.
Our well trained craftsmen begin by determining the proper grit sandpaper required and number of sanding passes necessary for each specific work site. Based on experience, the installer will recognize the grit needed to remove any old finish, scratches and/or embedded dirt within the wood floor. Yet still not allowing too much wood to be removed with each pass. The floor may need to be sanded two to four times depending on the age and type of finish, and the condition and species of wood being refinished. Newly installed unfinished hardwood floors will need to be sanded as well, due to slight milling imperfections and minor board edge unevenness. We utilize the flooring sandpaper grit grades of 12, 16, 20, 30, 36, 40, 60, 80, 100, and 120. The main areas of the floor are sanded with a large professional drum sander, while the perimeter is completed with a circular edge sander. A hand scraper is used to remove old finish from corners, bullnosing on steps or ledges and generally any small area our sanders can not reach. After the hardwood is completely sanded, a fine grit silicon carbide sanding screen is then passed over floor with an upright buffing/polishing machine. This extra step is taken to ensure the wood has been sufficiently smoothed down and that the grain has been evened out. The floor is then vacuumed, and tacked (passed over with a dampened towel) to remove any dust, prior to stain or finishing polyurethane being applied. Between polyurethane coating layers the hardwood floor is burnished with a sanding screen. The first coat of polyurethane commonly absorbs into the wood and raises the grain. This will give the dried coating a slightly irregular and rough feeling – which is perfectly normal. The dried polyurethane simply requires a 'screening', so the floor will be made smooth prior to cleaning and recoating again.
After the
floor
sanding process has been completed, there are three basic finishing procedures available. For reference purposes they are termed "Natural", "Stain", and "Pickling/White". Natural/Clear Process: In this procedure a polyurethane is applied directly to the bare wood surface. No
wood
stain or any type of coloring is applied to the floor prior. This clear coat process will render the floor a light amber or golden honey color [as shown above]. Factors such as the
hardwood
species, age, and grading, will often affect the final color achieved on the floor. Polyurethane is applied to the edges of the rooms by a hand brush, whereas a lambs wool pad (applicator) mounted on a 16″ wooden block is used to apply finish to the center of the floor. Stain Process: With this process a
wood
stain is applied to the
floor
, and hand wiped, prior to any protective polyurethane coatings.
This stain is for cosmetic purposes only and will have no effect on the floors protection. After the stain cures, polyurethane or water-based coatings are applied over the dried stain as in the natural process listed above.
Refinishing hardwood floors takes time, patience, and the proper tools and techniques, but the results can be extraordinary. If your wood floor is starting to look a little worn perhaps all you need to do is refinish it for the floor to get a shinier look again. Find a professional flooring company for this process, and if you want satisfaction guaranteed, call or contact Martinez Wood Floors.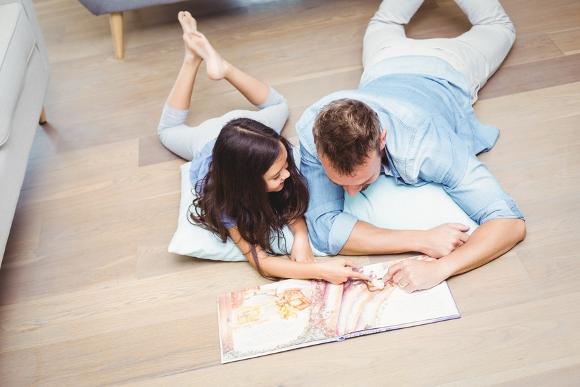 Connect with us in social medi@
© Copyright Martinez Wood Floors